Discussion Starter
·
#1
·
Marble Tombstone & Black Bird
Supplies:
2 tuna fish cans-free (recycled)
duct tape-free
broom bristles-free
15 water balloons-free
4 wire coat hanger-free
1 bag cotton balls-free
2 coffee cans-free
14 fancy feast cat food cans-free (recycled)
White packing foam-free (from office furniture)
Twine-free
Sticks-free (picked up in yard)
2 plastic soda bottle-free
Additional Supplies:
3 Cups white Glue-$2.04
1 2oz bottle white acrylic paint-$0.50
½ 2oz bottle black acrylic paint-$0.25
2 ½ cups water-free
1 teaspoon Gorilla Glue-$0.12
2 Handfulls pebbles from rock pile-free
2 Buttons-$0.04
6 inches of thin gauge wire-$0.01
1/8 bag of Spanish Moss-$0.25
½ spray can of Polyurethane Satin-$3.99
¾ container of Gloss Terra cotta brand Varnish-$6.89
Couple Dabs of Brown, Green, Red, Blue, Grey, Gold, White, acrylic paint-$0.15
1 sheet of easy eyes printed from internet-$0.10
4 pages printed wording from computer for lettering on tombstone-$0.40
2 1 inch Styrofoam balls-$0.32
Total Cost $15.06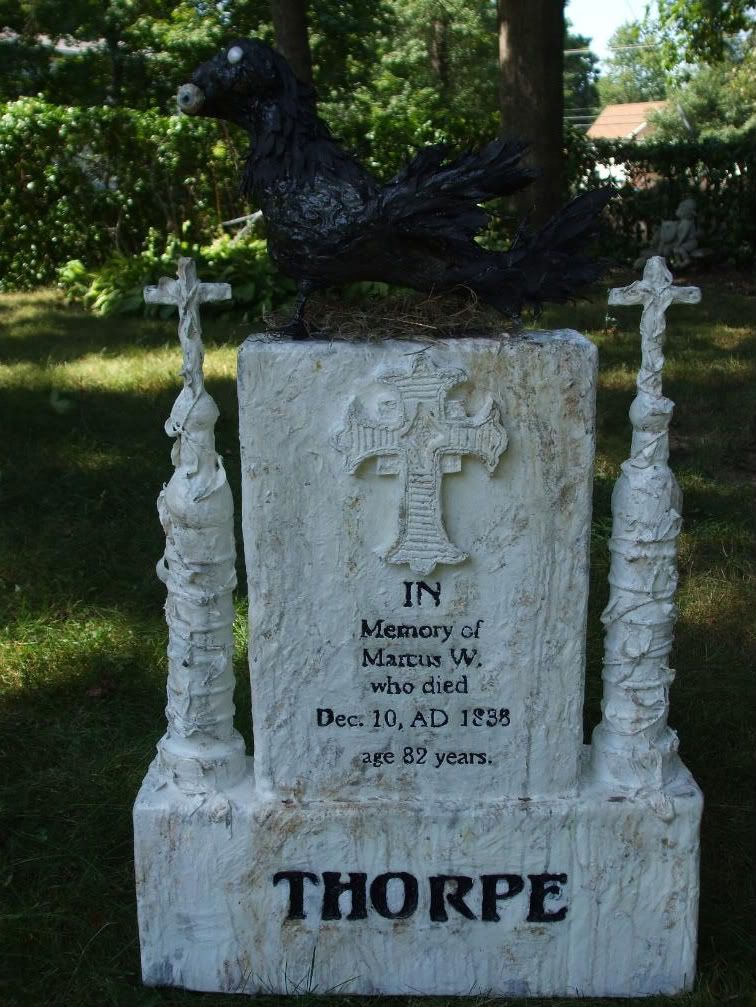 I first took two pieces of white packing foam and lightly glued them together with diluted elmers glue. Cut a hole in the top center of another larger piece of packing foam to make a base for the tombstone. After the Styrofoam was shaped and sanded, I then printed out the lettering for the stone and taped it in place. Once satisfied with positioning of the wording, I used a wood burning tool with pencil point tip and a dimmer switch to control the temp and burned through the paper into the foam. All the burned in lettering was then painted with black acrylic paint.
On both sides of the tombstone I stacked a Tuna Fish can and then 7 Fancy Feast cat food cans using dabs of Gorilla Glue to hold them in place for the columns I formed. On top of the last Fancy Feast cat food can is the top of a plastic soda bottle. On top of that is a 1 inch Styrofoam ball. On top of that is a cross made from scrap pieces of foam left over from office furniture packaging. Duct Tape was used to put the cross pieces together. On the center of the tombstone is another larger cross which was cut out from a flat piece of packing foam. I used the wood burning tool to burn in the design.
I wanted to achieve a marbleized look for the tombstone so I began unrolling cottonballs. I mixed 1 cup of Elmers Glue with ½ cup of water and approx. 3 teaspoons of acrylic paint. Using a flat angled paint brush I brush the mix onto the stone and then placed the unrolled cotton ball over that. Once it dried for a few minutes I then went over the cotton with more mix and the paint brush to completely cover the cotton. It took me about a week working several hours a day to completely cover the stone in cotton and the glue mix. I also covered the column with this method as well.
Twine was soaked in water for about an hour and then used to wrap around the columns to form a vine. I used bits of cottonballs and glue mix to make leaves free forming them and then transferring them one at a time to the columns in various places to give the vine some life.
Another bit of twine was soaked in water to be used to trim the melted in edges of the larger cross for the tombstone.
The entire stone was allowed to dry and then another coating of glue, water and acrylic white paint mix was applied. After a few days the outer coating of the stone was hard as a rock to the touch. I was trying for a marbling look so Dabs of Black,Grey and Gold where applied using a sea foam sponge.
Two coats of Varnish where applied and allowed to dry in between. Brown, Black & Green, acyrlic paint was dabbed sporadically on stone and then sprayed with a water bottle. Another coat of varnish was applied and allowed to dry.
The base of the stone I carved out two holes large enough to recess in a coffee can. The coffee cans where placed into the foam with the lid parts facing the ground. The lids where cut in the center to fit a piece of CVPC pipe which was Gorilla Glued in. These will be used to sink into the ground to secure it. The lids can be removed to fill cans with pebbles for weight.
The next part of the project was done completely by accident when I was messing around with a wire coat hanger trying to come up with an idea. After shaping a coat hanger the shape of a bird came to me. Using the bent piece of wire coat hanger I then used partially blown up water balloons to fill out the bird shape. I don't recommend trying to blow up water balloons first thing in the morning before the coffee has set it. I almost passed out several times. Those balloons are for filling with water only. LOL! I also used cottonballs and duct tape to form the neck area of the bird and used a balloon for the head.
Pieces of bent coat hanger where then covered with balloons to form the feather bases and tail area of the bird. It was all duct taped in position. A small piece of wire was used to form the beak of the bird. A mix of Glue, water and black acrylic paint was used to apply pieces of cotton feathers one at a time until the entire bird was covered. Each feather was free formed and then transferred to the bird. This was another time consuming process. Just when I thought I was finally finished I would see a piece of balloon sticking through. I continued making feathers with cotton until the entire under structure was covered. The eyes I used two buttons and cut out easy eyes that I had printed off the internet. I used varnish to put them in place over the buttons. I used more cotton and glue mix to hold them in place.
The eyeball in the birds mouth is 2 cottonballs soaked in glue mix and rolled in my hands like I was making a meatball. The strands of muscle hanging from the eyeball are just pieces of cotton coated with glue mix. The eyeball was placed on a wire stand and allowed to dry for several days. Another easy eye paper cut out was applied to the cotton eyeball using varnish. Red and Blue acrylic paint was used on the eye and muscles hanging out.
The entire surface of the bird was then sprayed with Polyurethane. The base of the bird was covered with twine, broom bristles, sticks from outdoors and bits of Spanish moss. Once it was all in place, I sprayed it with Polyurethane and allowed it to dry in place.
The nails on the birds feet where cut from the plastic soda bottle and applied with cotton and glue mix.
Additional photos of the contest project:
Thorpe stone pictures by troop134 - Photobucket