I came up with this idea last year when I needed to make a butt-load of bodies for a meat-locker type room. If you can get on good terms with your local furniture retailer, there is alway going to be an abundance of body building scrap that they will let you have for free (ask nicely folks....this is an awesome resource!!) These bodies ended up costing me about
30 cents each
....just the price of the tape used to wrap them up and a few squirts of red paint!
I don't know if a how-to is really necessary, but let me know if you have any questions.....
Packing Foam ( EVERYTHING comes wrapped in this stuff.....free-free-free)
Plastic bags (sofa or mattress packing....free-free-free!)
red spraypaint
colored duct taped (cheapo from Biglots)
Body forms wrapped up and ready to bag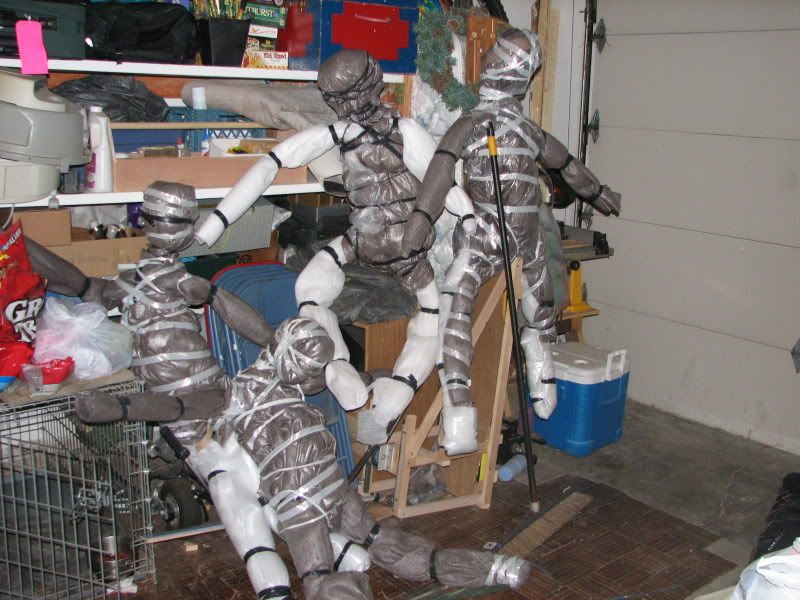 A few hanging in my front yard (yes, my neighbors love me)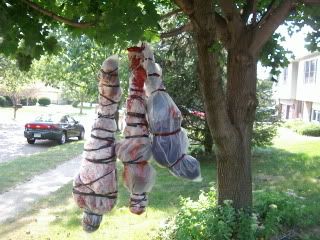 the group laid out and ready to go to the haunt.....which one is real?
in the haunt!