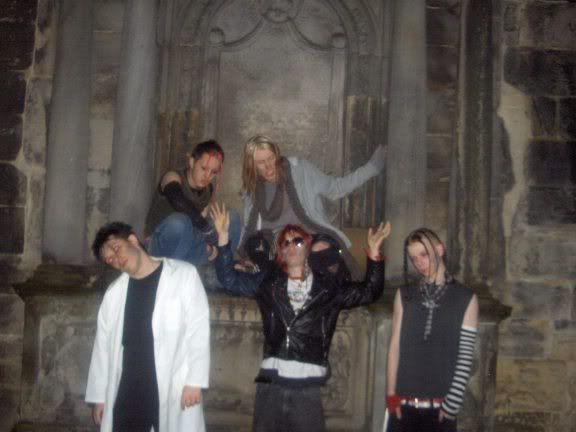 Dirty wee Middens have this to say about themselves:
We're a Spunk Rockin, ghoul Glamming piece of **** trash rock band who are slowly starting to make dents in the fabric of The Scottish Music scene. We're an infectious bunch of pricks, who you'll hate to love and more importantly love to hate and we'll burst your ears with full on wheelie bin style songs like "Embarassing Wood" and "Land of the Dead".
Well, from their self description, I think it would be clear and fair to say that these boys come fro mthe same vein of the musical scene of the world as, Misfits, Murderdolls and Frankenstein Dragqueens from Planet 13!
That's right! These boys are glam punk! Influenced by horrors they love to watch (such as the infamous EVIL DEAD), but also writing old school punk songs (BRING BACK THE ANARCHY) and well, just **** about songs that are fun to listen to and sing to! (EMBARASSING WOOD).
These boys are so good, they have sealed themselves a record contract with a local record company for an album release with the "groovy" release date of HALLOWEEN 2006, that's right! These boys will be creating new life on the night the living dead roam the streets, looking for brains and humans! AND they are supporting major glam punk band TRASHLIGHT VISION headed by MURDERDOLLS guitarist Acey Slade. Not only that! They're supporting the drummer from one of the, if not THE most influencal punk bands in the world, RAMONES! Yes, they are supporting the man himself, Marky Ramone!
But enough of me trying to sell these dirty ****ers to you!
Time for you to go listen to them!
OFFICIAL BAND WEBSITE
MYSPACE PROFILE
So, Tell me what you think of the band!