Discussion Starter
·
#1
·
Initially, I was going to wait to post a thread about this very subject until something of inerest and import came up and toady it has. From USA Today:
USA Today

has debuted the first photo of The Silver Surfer from Fantastic Four: Rise of The Silver Surfer, opening in theaters on June 15. We'll be providing you with a higher resolution version of the image on Friday morning.

Here is what the newspaper says about the character:

With computer-generated imagery techniques similar to those used to create Gollum in The Lord of the Rings, the slippery Surfer, voiced by Doug Jones, "will look somewhere between gun metal and fluid metallics so you can see the body motion, the breathing, the muscle tone, the mood," says Marvel Studios CEO Avi Arad.

The Surfer's mood is key to the story. After striking a deal with the evil Galactus to save his planet, the once-human Surfer wreaks havoc throughout the cosmos. "He is a highly emotional being, trapped inside fluid metal," Arad says.

The new teaser trailer for the 20th Century Fox sequel will be exclusively in theaters on Friday (12/22), attached to "Night at the Museum."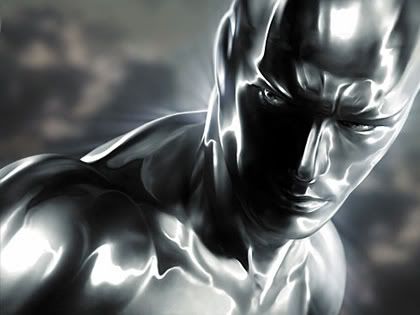 Just so there is no confusion: Galactus isn't evil. Such concepts are beneath him as he is a Force of Nature. Comic book geeks such as JT, RAXL, Z, Pete, myself and a few others already know this. Seeing that Avi Arad oversimplifies Galactus' role in the scheme of things, doesn't give me a feel good attitude about the whole production. I shouldn't be too surprised, after all, look at the wonderful job they did with Doctor Doom in the first one.
Norrin Radd (Silver Surfer) looks okay though.