I have made a modified version of the BairdManor Headpopper prop. This prop was the group project at the IN/KY Make N Take for August, 2008.
Thanks to BairdManor for the inspiration.
http://www.my-mania.com/halloween/headpopper.html
My version utilizes the same mechanism, but has a much smaller (and less expensive) motor. This version is designed to use a styrofaom head or skull since the motor will not lift as much weight as the wiper motor used by BairdManor. This mech will work with a 30 in tall tombstone, but can be easily modified to fit other size stones.
Materials: ( all purchased at Menards other than the motor/wallwart)
16" square of 1/2 inch plywood, cut in half (two 8" X 16" pieces)
20"long 1" X 4" wood slat
1/8 X 1/2" aluminum bar stock, cut into 5" and 25" lengths
3/8" X 4-1/2 inch lag Screw Eye
two 1/4-20 X 1.5" Bolts
three 1/4-20 Nuts
two 1/4" lock washers
one 1/4-20 locking nut
two 1 1/2" wood screws
Motor
http://www.surpluscenter.com/item.asp?UID=2008063018195822&item=5-1587&catname=
12Vdc wallwart
Start by assembling the platform as pictured. Screw the wood slat in the center of one of the plywood pieces and then screw the two plywood pieces together to form an 'L'. Drill a 1/4 inch hole sixteen inches from the bottom of the wood slat, and install the Lag Screw Eye.
Drill a 1/4 inch hole in each end of the small aluminum bar. This will become the crank arm. Install the 1-1/2 inch bolts, nuts, and lock washers as shown.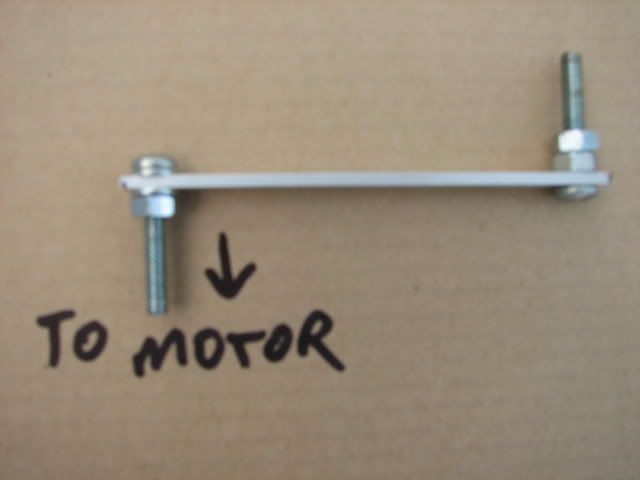 Thread the bolt shown into the motor shaft. It may be necessary to use a 1/4-20 tap to make threads inside the motor shaft.
Screw the assembled motor/ crank arm to the 4"wide wood slat. Make sure to align the motor shaft with the center of the slat, and that the crank arm has approx. 1/2 inch clearance at the platform base.