Discussion Starter
·
#1
·
Well I know that Reapers are not all that "original". I had to take into consideration my Haunts theme when creating my "masterpiece" LOL. Well My haunt is a traditional graveyard with the garage having a witches lair and well a mad scientist.. but hey thats not the point... I have a 6 food reaper that just seemed to need a friend. So I used an idea I saw on Terror Syndicates website and created my version of the "wall Breaker"
I came in right on target... I feel his food needs a little lift but that will have to be assessed after the contest. Hes a tall reaper okay! I wanted the top to be high enough to make the kiddies wonder about him.
My neighbors think he rocks and all the kiddies are excited right now about Halloween as they saw me putting him up today... So take a peak and let me know what you think. I am pretty pleased with how he turned out if I do say so myself!
Here is the breakdown of my cost:
Bricks:
Grey Foam: free (mom found it in her recycling room in her apartment for me)
Paint: 2.00 for Red (used 2/3 can of Oops paint) 1.00 for Orange (used 1/3 of 3.00 can for Oops)
PL Premium: 4.99
Scythe:
Skull: 1.00
Staff: free, cut down weed tree between garage and neighbors fence
Scythe: 2.00, wood left over from dresser spouse made (he kept throwing it out and I kept taking it out of the garbage - see, pack rats are good)
Spray Foam: 2.00
Duct Tape: .50 (half roll from dollar store)
PL premium: .25
I mudded it first to have the same look and then a little highlighting, see below
Foot:
Monster Mud: Free as per contest rules
Burlap: 1.00 (as total burlap was 3.99)
Plywood: free, taken from house down the street when renovations were being complete - was in the dumpster
Chicken wire: Free, left here by previous owners (again Billy kept trying to throw it out)
Aluminum foil: .10
Paper, cornstarch, Elmer's glue & water: .50
Spray foam: 1.00
Fog Machine: 14.99
Fog Juice: free, came with machine
Reaper:
Monster Mud: Free as per contest rules
Plywood: free, see above
Hand: liquid latex: 1.00, Cotton balls: .10, Clothes hangers: free, donations from people at work, PVC pipe: .25
Frame work: 2 pieces pink foam: 1.00, PVC pipe, white: .75, PVC pipe, Black for arm: 1.00, cuff to attach hand to arm: .90, Styrofoam head: Free, came with mask purchased wayyyyy back from an auction, light up eyes: 1.00 from dollar store, face: flour, newspaper & water: .25
Scraps of wood for frame: free, took out of recycling
Burlap: 2.99
PL Premium: 3.99
Paint used for backers, touch ups, face, hand, foot & drybrushing for texture: 3.00 (black was 12.00 for can & used 1/10th, grey was 9.00 for can and used less than 1/8th)
Zip ties, used throughout project for various reasons: 1.00 (being generous as the whole bag cost 1.00 from the dollar store and used many but not all)
Hardware: most of it found in and around hubbys shed: purchased nuts only: 1.00
Total Cost: 50.56
So here he is: Enjoy!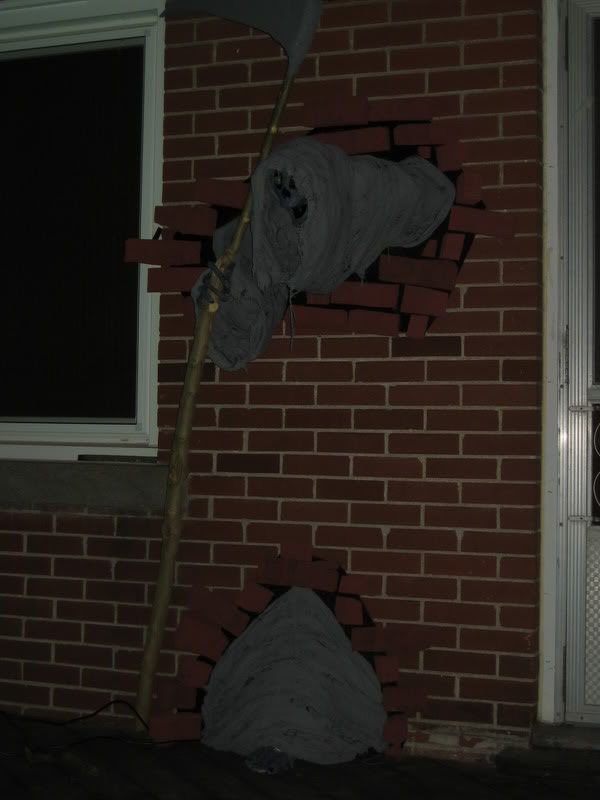 video 1:
Props 2007 :: mm entry video by hellrazor_1 -

[email protected]

@

[email protected]

@http://vid77.photobucket.com/player.swf?file=http://vid77.photobucket.com/albums/j76/hellrazor_1/Props%202007/

[email protected]

@

[email protected]

@

[email protected]

@

[email protected]

@

[email protected]

@

[email protected]

@j76/hellrazor_1/Props%202007/Picture379
video 2, with fog:
Props 2007 :: fog? video by hellrazor_1 -

[email protected]

@

[email protected]

@http://vid77.photobucket.com/player.swf?file=http://vid77.photobucket.com/albums/j76/hellrazor_1/Props%202007/

[email protected]

@

[email protected]

@

[email protected]

@

[email protected]

@

[email protected]

@

[email protected]

@j76/hellrazor_1/Props%202007/Picture380
check out the whole photobucket for all pics associated with the making:
Props 2007 pictures by hellrazor_1 -

[email protected]

@

[email protected]

@http://static.photobucket.com/player.swf?file=http://vid77.photobucket.com/albums/j76/hellrazor_1/Props%202007/

[email protected]

@

[email protected]

@

[email protected]

@

[email protected]

@

[email protected]

@

[email protected]

@j76/hellrazor_1/Props%202007/135