Discussion Starter
·
#1
·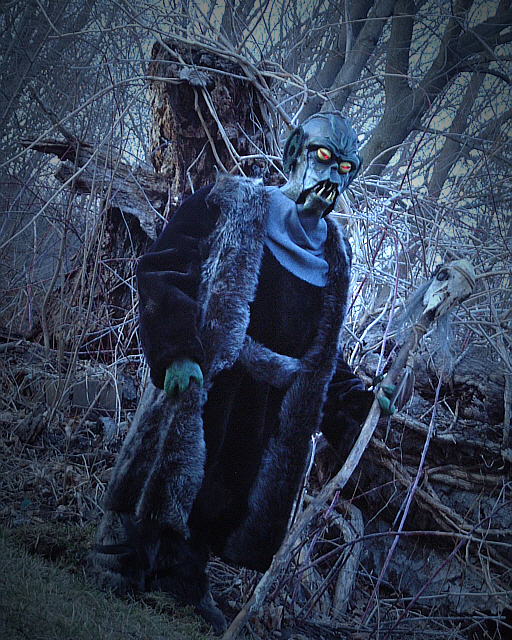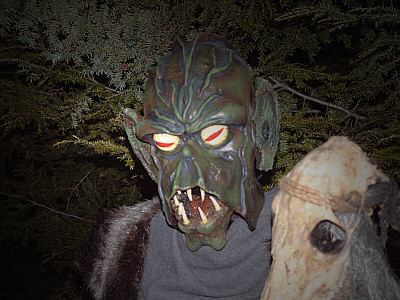 Materials:
one mannequin head: $1.00
2 1/3 packages of dollar store clay for head: $2.24
Sculpey for teeth: $0.35
Celluclay hands: $6.00
2 red LEDs for eyes: $2.00
1 9V battery: $0.50
1 9V battery plug: $0.52
Battery wire: $0.15
1 Ping Pong ball: $0.15
1 Pool noodle: $1.00
Screws: $0.15
Staples: $0.10
Paint: $3.00
Assorted wood scraps: $1.25
Twine: $0.10
Construction adhesive: $0.10
2 old "faux fur" coats: Free
1 old couch pillow: Free
Window screening: Free
Coat hangars: Free
Scrap foam: Free
Dead tree branch for staff: Free
1 defleshed Deer skull: Free
Scrap hair: Free
2 feathers: Free
Total $18.61
The mannequin head (fondly referred to as "Manny the Head") was sprayed black, and window screening was stapled into place. We drilled two holes through the back of the head with a long bit and fed the red LED lights through (LEDs from American Science & Surplus for $2 #32884-9-12. They were wired to a battery cap (Radio Shack Model: 270-324 5/$2.59) and plugged into a 9V battery (dollar store 2/$1)
The eyes are a ping-pong ball cut in half and trimmed into shape, the lens of the eye is part of the clear packaging painted red.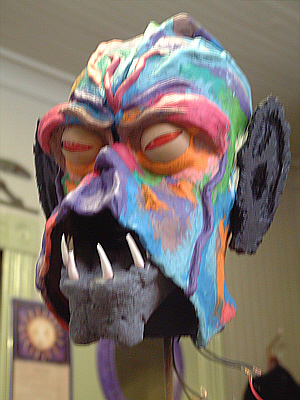 Two and quarter packages of dollar store clay were a perfect medium to cover the head and screen, we let it dry for a couple of days and then coated it with latex paint. A bit of craft acrylic paint and a some air brush paint and drybrushing finished off the details.
Fangs were molded out of a bit of Sculpey, baked and embedded into the scrap foam jaw. The foam was attached to the chin of the mannequin head with a bit of construction adhesive using straight pins to hold it while drying.
Two bits of foam were carved into the ears and painted to match, also attached with some PL.
The frame is made from a couple of pieces of 1x3 screwed into a scrap piece of plywood for the base. Fully dressed, Morgrum stands about 4' 6" tall
The "fur" coats were free (2 years ago) from a local thrift store. They were free because the store was to benefit an animal shelter and they never sold anything donated to them that was made out of fur or fake fur. One coat was turned backwards to form the tunic, with a pillow for bulk, wire coat hangars and a cut up pool noodle inside the sleeves. The other coat was cut up and used as the long vest. The sleeves were made into the legs and tied with "leather" bindings from strips cut from one of the coats.
We started to run out of time and needed to bang out a pair of hands on short notice. Not enough time to figure a cheaper/lighter way to make them, so we used a whole package of DAS Celluclay. They came out great after a bit of paint.
The staff is a branch from the woods with a deer skull attached with twine. My friend, Frank, found the skull in the woods near his home in NJ and brought it up last visit. A bit of hair that I pulled off the skull from last year's Wheel of Torture prop was tied to the skull. The feathers were salvaged from the butt of a foam vulture that was smashed last year during a severe wind storm.
I must say, keeping the prop under $20 was really a challenge, you have to do a lot of careful planning and make every penny count. To help visualize our prop, Laurie wrote the following: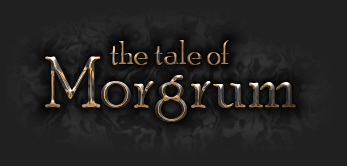 "A sentinel of the darkness, quietly lurking, guarding the entry to his Swamp. For years beyond recall, Morgrum has kept this vigil, lying in wait for the aggressors that destroyed the land of his people, the Eldirians.
A trusted advisor to his king, Trylgar, he had traveled far to the empire of their bitter enemies - the Bruvidars.
For centuries, the two kingdoms co-existed peacefully. But all that changed when Giraldus rose to power and the raids on Eldiria began. At first, they were viewed as random attacks but it soon became evident that the tyrant Giraldus would settle for nothing less than full domination of their peaceful existence. As trusted leader of his people, Trylgar remained steadfast in his belief that he could keep his people safe in their bucolic lifestyle and arrange for a treaty of friendship. And so, he called for Morgrum to act as his emissary and mediate a suspension of the hostilities.
But it was not to be.
Bruvidar was a vast empire and employed many spies. Morgrum was captured and imprisoned. Time passed slowly for him under the harsh conditions of his confinement, but thoughts of his beloved Hezamel kept him strong. He endured his suffering with the knowledge that she would be waiting for his return. Finally, he was able to plan his escape and make his way home. But he quickly found that in the short time he was held captive, the surrounding countryside had fallen siege to the evil overlord.
Arriving in Eldiria, all he had known had ceased to exist. Gone were the thatched huts and cultivated fields, everything lay in smoldering ruins. Everyone he knew had been tortured and killed in the grisliest manner, including his love, Hezamel. Brokenhearted, he vowed revenge and patient in his quest, he stands guard - melding with the forest that was once his home, indifferent to the chilled dampness that permeateshim to his bones.
Enter not, lest you invite his vengeance."