There are many tutorials out there for LED spotlights. I've read a lot of them and came up with these lights that are very cheap, and for the most part, very effective.. Most tutorials aren't complete. They omit just enough information that newbies can be a little intimidated. Even though there are many ways to make an LED spotlight, I decided to post a complete tutorial so that you have a good place to start from.
Our MnT group did a test using spots with 3 of the cheapo 5mm Leds and compared them to the single 10mm Led spotlights. The 3 Cheapo LED design was far superior for overall color saturation and intersting patterns. In this Tutorial I will eventually show you banks of 3, 6, 9, and 12. Since some colors from Asia Engineer vary in intensity, you might want info on constructing a stronger multi-LED Light.
With that Said, New LED's are being introduced almost daily. I'm going to continue to experiment with some of the "uber bright" LED's that I'm beginning to see out there. I'm also still looking for an affordable UV LED that is in the 365nm- 385nm range. They are available, but kind of costly. My goal is to eventually replace 110 bulbs entirely for my haunt, as well as some all season outdoor lighting. Feel free to use whatever LED's suit you.
You can see the origins of this project, ask questions, and make comments about this tutorial
here
until I get the entire tutorial finished and edited.
This tutorial will come in segments since it will take a lot of time to gather all of the documentation necessary. USE THIS FIRST POST to start collecting bottle caps. You will need 2 per light fixture. It took me a long time to gather enough caps since I don't drink soda. I began looking for bottled water with the caps I needed, and even hit the recycycling yard, (till they told me I couldn't take any caps), and scavanged the neighborhood on recycling day.
The standard disclaimers apply. "I am not responsible etc". In other words, proceed at your own risk. This system is very SAFE but there's always someone that could touch thier tongue to a frozen flagpole when a "double dog dare" comes into play. Use common sense as you will be working with electricity and various tools. I also reserve the right to make mistakes or omissions and correct them at a later date. I'll do my best to be thorough.
=========================================================
LED Spotlights part 1: PARTS AND TOOL LIST
To build these ultra cheap (Less than 75 cents apiece with mounts) LED spotlights you will need these materials:
MATERIALS:
-1" thin wall PVC pipe. Be careful to get thinwall and not the thicker sched 40 stuff (Home Depot or Lowes) 10' makes about 29 spotlights
-Old style 2 Litre bottle caps (manufacturers are beginning to change thier cap designs but these are still readily available)
-Super Glue (Cheap dollar store stuff actually works best)
-#8 X 2" bolts (Home Depot) 1 per fixture
-#8 Wing nuts (Home Depot) 1 per fixture
-# 8 washers (Home Depot) 1 per fixture
-Ceiling hangers (Home depot) 1 per fixture
-Wood for platforms (Can be scrap, but must be at least 3/4" thick and about 3" wide. NOT Plywood)
-Flat Black or Dark spray paint
-Hot Glue sticks
-LED's and free Resistors from
Asia Engineer
. You must special order your free resistors since the values are different than standard.
UPDATE: The resitor values below are the Closest available values available from Asia engineer that I found on thier site. The calculator says that these values are at the lower limit of acceptabe but the did just fine for mine.
100 Ohm resistors for White, blue, green and pink. (Free) These are also at the low end of what's acceptable, but they didn't have a closer match. Mine work fine at this value.
360 Ohm for Reds, and Ambers. Also at the lower limit, but they work fine for mine.
To help insure you get the correct resistors, At the bottom of the order page there is a space for a note. Specify the resistors you want for EACH COLOR that you order. Once you complete your order, Back up the request by sending another note to "Giorgio" through E-bays "Contact this seller" with the same information. REQUEST CONFIRMATION of your resistor values. Eg- "Please send 100 Ohm resistors for Whites. Please send 360 Ohm resistors for Reds. PLEASE CONFIRM RESISTOR ORDER", Etc. Remember you are ordering a product from Asia and thier english is a little limited, so use simple language, Be concise, and use common words.
They will respond and ship usually within 12 hours.
-Copper weather strip nails (#17 X 3/4"- not show in picture below)from Home Depot for the vampire connectors. -
Alternate connection system.
Joe (Hpropman) has an alternative method of connecting these lights together. See pics here.
HP's RCA Connection system
-Finish Grade Plywood for Vampire connectors (Scraps if possible)
-Landscape wire (16-2 14-2 or 12-2) Home Depot
-Scavanged computer power supply with on-off button (heavy duty toggle switch if no on-off button exists)
-12V Wall wart for LED testing.
-Telephone wire (radio shack) or light guage speaker wire for pigtails.
-Solder
-Dollar store Hair ties (to secure vampire connectors)
TOOLS
Safety glasses
Mitre saw (preferably power)
Drill press (preferred), or hand drill.
Drill bits 3/16", 13/64' 1/4"
Soldering iron
***** (wire clippers)
Fine needle nose plyers
Fine 45 degree needle nose plyers (optional)
Regular plyers
Wire strippers
Multi Meter (not necessary but helpful)
Vice
Smooth face hammer
Helping hands soldering station (make one cheap
here
) Thanks to Hpropman
Sandpaper or a belt sander
Hot Glue gun
Patience and time
These are the type of bottle caps you need. If you have any doubt, buy the thin-wall 1" PVC first, and cut a small sample of it and keep it in your pocket. Wen you find a bottle cap at work or on recycling day, and it fits snugly into your sample piece than your good to go. These are specific sized and shaped caps and ONLY these and similar will work in this design. ALWAYS test fit untill you become familiar with these types of caps. Strangely, you will soon be able to Identify different caps from different distributors....
This is the hardware that you'll need. Ceiling hangers on the left and the others items are easy to read. All were bought at Home Depot.
This is the wire I used to wire the LEDS in the fixtures (to create the pigtails from the LED's to the main line). Any double stranded wire will do, Light guage speaker wire, Lamp chord wire, anything light guage. The wire in this picture isn't braided, but it has held up well to date. Solid wire won't hold up to constant adjustment as well as braided wire, but for most of us we only adjust sour lights a few times during the season so this wire should be fine. It works for me since it's SOO Cheap. Yes there are 4 wires inside. I'll show you how to effectively remove them from thier sheathing.
Here's two tubs of materials in the process of constructing the main bodies of the lights. I tend to "production-line" the things that I need to make a lot of. Here's a hint, make a lot more than you think. Once I realized how to blend the colors for different effects, I wanted a lot more lights. It wasn't to make everything brighter, but to bring more life to the scenes I had createed. You ALWAYS need more lights for that SPECIAL effect.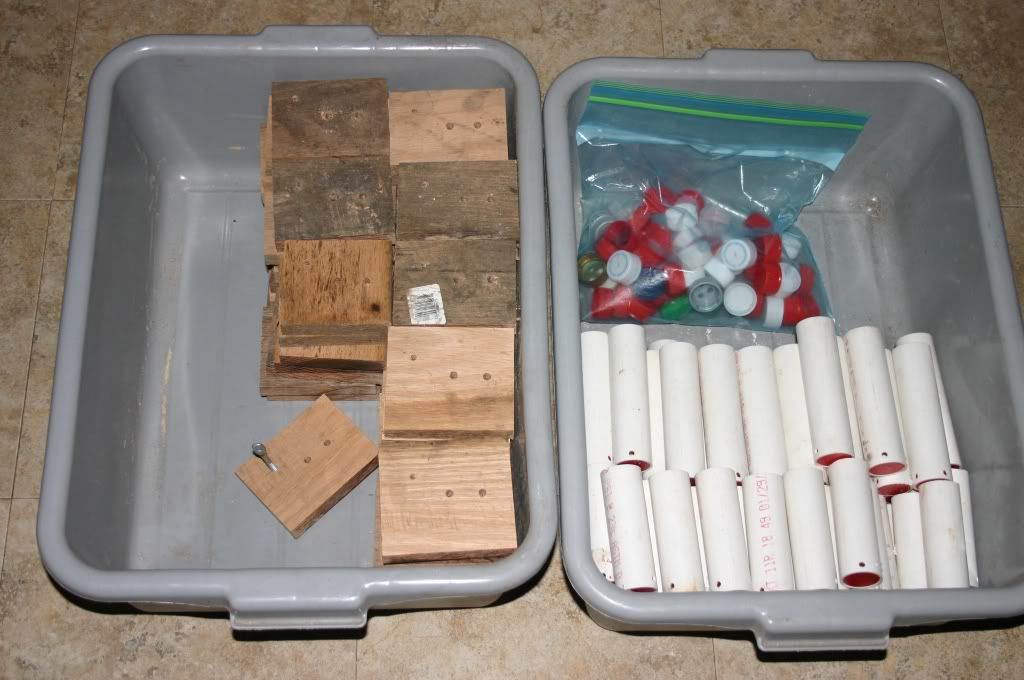 Here's a picture of the ceiling hangers and some base's that I precut and drilled/ Your base wood should be approximately 3"X 4" and 3/4" thick (Min). Some use 2X4' scrap and that works too, albiet not as inconspicuous.
This should be enough to get you started. It takes a week or two to get your LED's and probably longer to gather all the caps you will need (2 per fixture). If you have any question at this point than please feel free to ask. There are some other pics in my "LED Lighting post" which is in the atmosphere section here. Some of you can create them by just viewing that post alone, but a complete tutorial is yet to come. So be patient and enjoy.