Discussion Starter
·
#1
·
Lighted Haunt Forum Logo Sign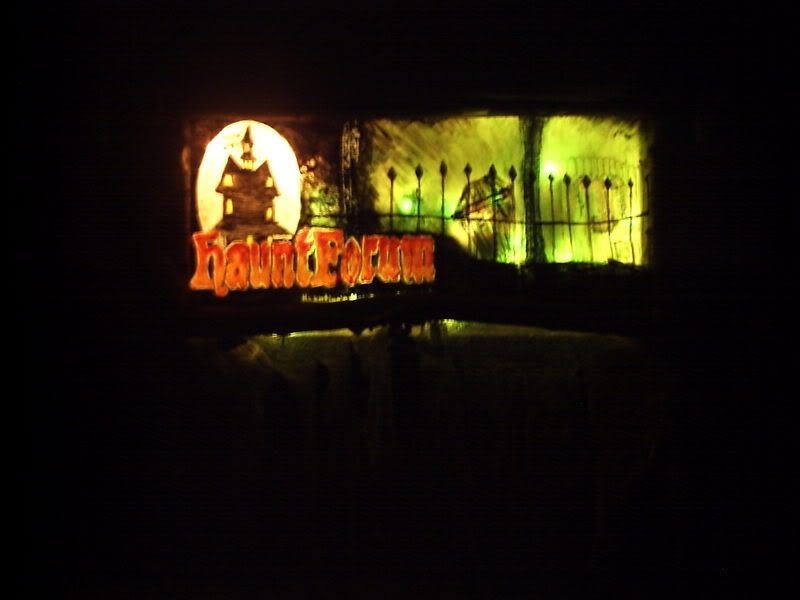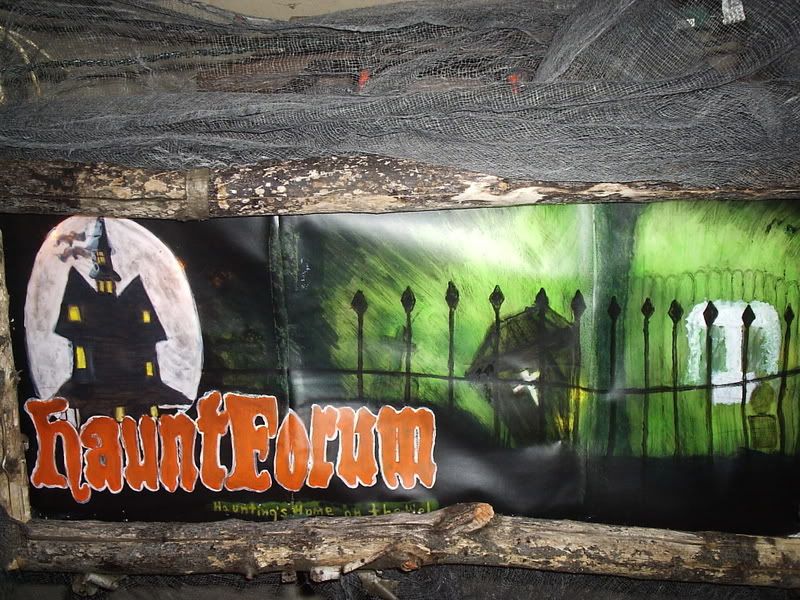 supplies for sign-
3 sheets vinyl plastic----$0.12 (from 2 sleeves of paper holder type)
sticks for frame-----------free
foam for backing----------free
silicone - 3/4 tube-------$3.00
glass paint---------------$1.98
black+ green flat paint--$1.00
25 set string lights------$1.00
hot glue sticks 3---------$1.00
nail tacks ----------------$0.20
screws (6)---------------$1.02
cheesecloth-------------$1.98
twine--------------------$0.15
_____
total---------------------$ 11.45
I took 2 sheets of the vinyl plastic and sliced them in half using only 3 pages then.
I used clear silicone to attach them together( reminder to paint on opposite side next time)
paint does not stick to that very good.
I used glass paint for most of it for light ,
I also used some flat balck and green to try and cover
some of the see thru areas.
I made frame of sticks from my back yard.
Screwed 4 screws to hold together and 2 screws on top for hanging.
I used the clear silicone to attach the picture to the wood from behind.
I had some bead foam from a couple orders I had recieved and cut that to fit.
I then tacked down my string of lights, then checked to see how it was from right side.
after all looked okay, I hot glued on low the tacks over the wires also.
I then used the silicone to attach the foam back to the wood frame
Then taking a piece of cheesecloth that I had from last year (dyed with paint also)i
I surrounded the frame and cut the creepy lengths.
I then tied thw twine to the screws and used that to hang it with.
Right now it is hanging in my bar downstairs, it may stay there all the time but at halloween,
I am going to move it to the graveyard and hang it from my swing.
for this yr.
I think it turned out okay..what do you think?
Hope you guys like it.
lilly