Discussion Starter
·
#1
·
So due to the new jobs I've acquired, I don't seem to have a lot of free time (but whoa boy is having money again nice, I certainly do like eating every day!) and with trying to fund my movie still, I had to make a decision to either work on costumes or a Halloween display. Since it's one of my friends' birthday Halloweekend, I chose costumes plus once I got the sketches down of my idea for a Bride of Frankenstein, I just had to do it!
If anyone remembers I was working on a goat lady costume, I still am, it just was going to take a lot more time than I had, so I shelved it to be worked on later. As it were, this Bride of Frankenstein costume took somewhere I think around 60 maybe more hours.
I made the wig and the costume is scraped from an amazing amount of "found objects" including a bunch of stuff I bought in auction lots earlier this summer. So all those metal bits you see are either 1950's tractor springs or actual 1950's electronics. I tell you... one good thunderstorm and I was gonna be more
ALIVEEEEEEE
than I bargained for, haha!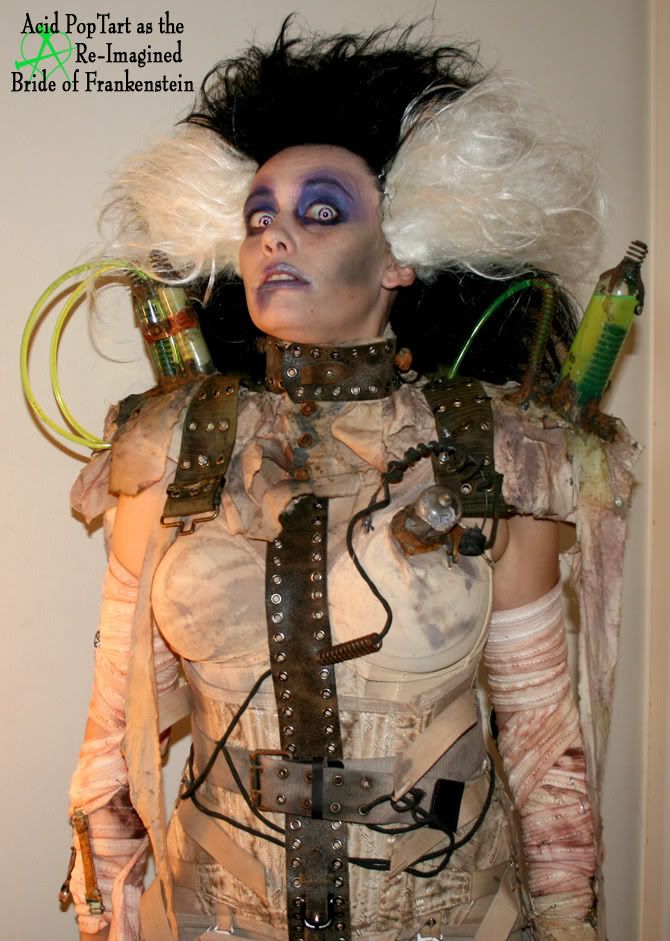 Those giant test tubes and tubing you see are all filled with liquid that
originally
I wanted to glow but all experiments from this glow in the dark powder I got to busting open various light sticks all failed. It's a lovely putrid colour that fits into the costume, but it don't glow at all. Now a black light on the other hand was lovely, but I wasn't walking around a huge street carnival with a black light display, I already had too many touchy feely drunks and in 8 inch platforms and sfx lenses that greatly limited my vision - not a good plan!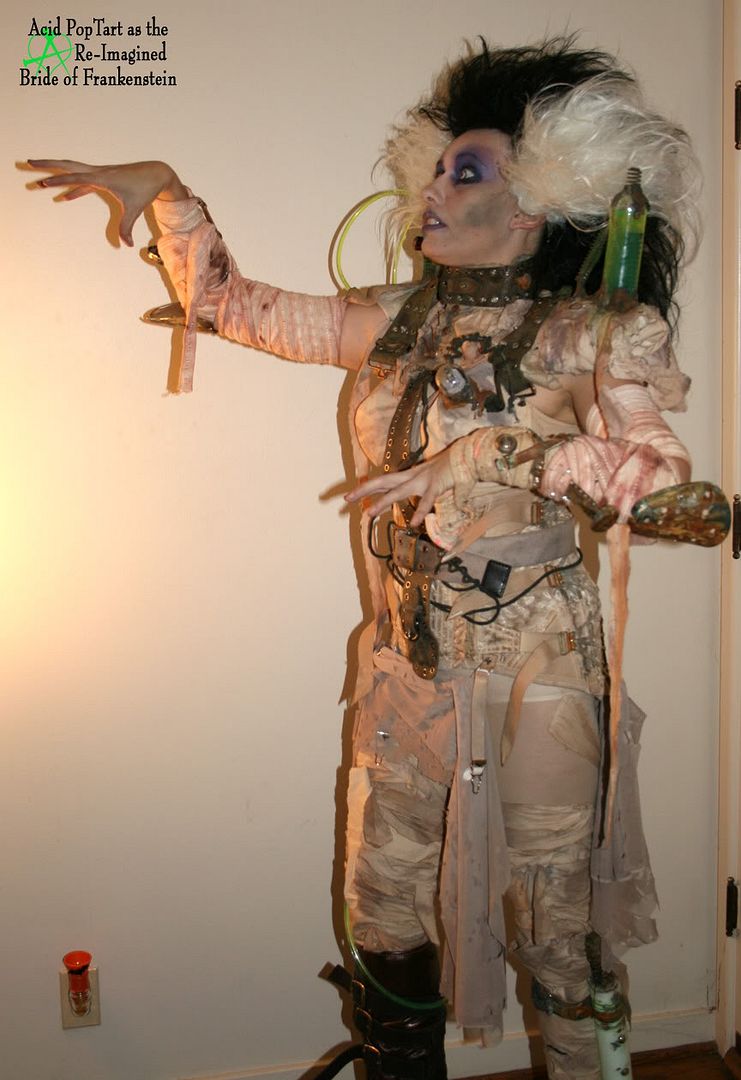 Of course I tested all the tubing and test tubes for leaking, I sealed off the tubing with hot glue inside and the test tubes are these
marvelous
things from Steve Spangler science store that come with screw caps and they work well! I threw some tractors springs inside. There are indeed bolts on my neck, largest I could find without making them myself, just hard to see.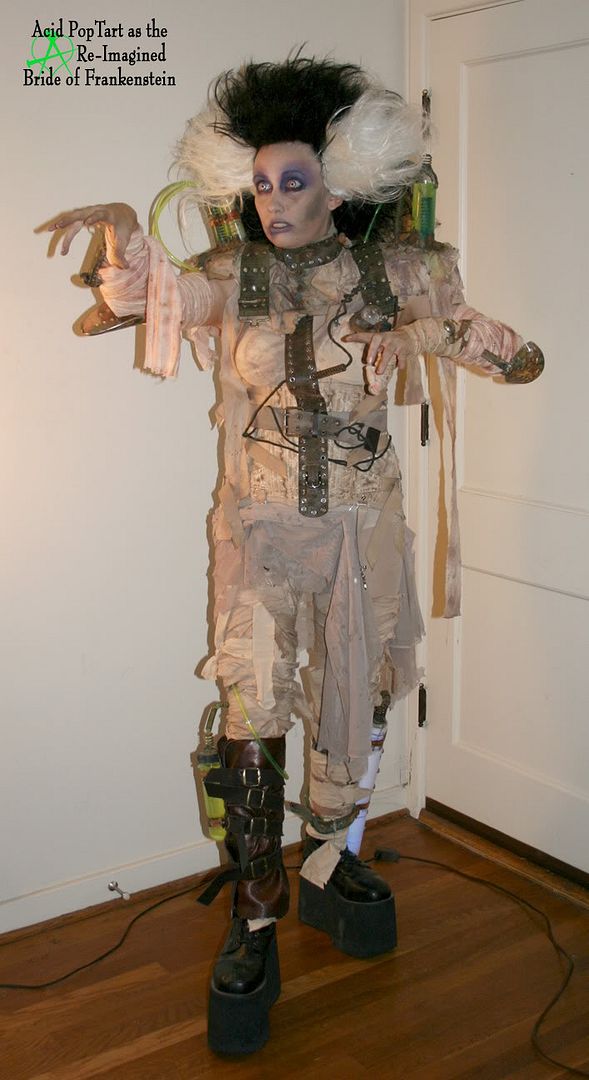 It's hard to see but besides another large test tube with tubing and wire, there's this great colour changing tube strapped to my other leg, it would pulse this red then green then purple then blue and I screwed a lot of bolts to the side plus added more rusted springs to the top so it looked more like some kind of necessary electronic piece to keep the Bride alive.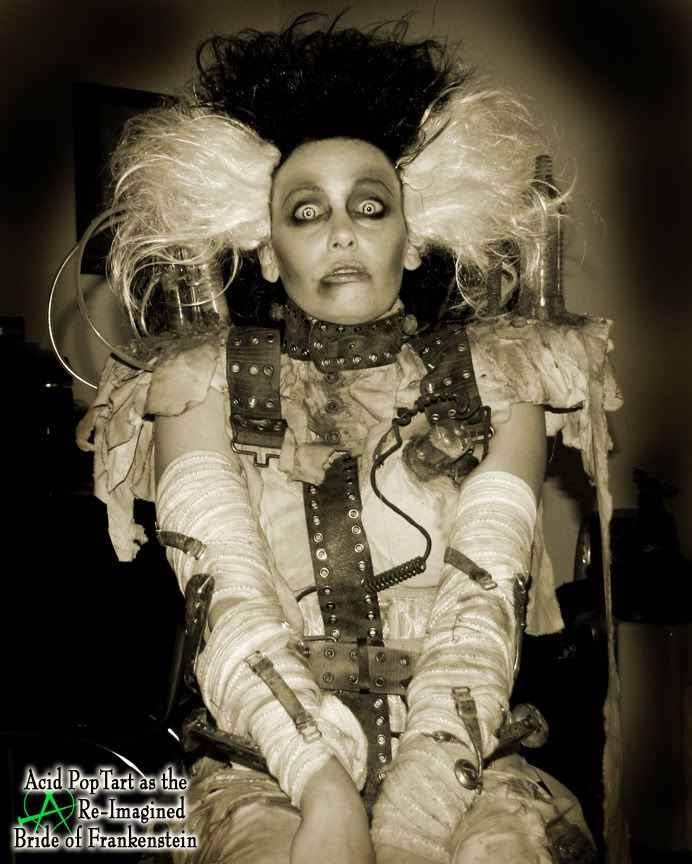 This is the most intensive costume I think I've made and I feel I really outdid myself compared to previous years, I'm pretty proud although I know what improvements I need to make before I got to shoot this in a more pro setting versus before we go out partying shots. This also marks the first time I am literally bolted into this costume! I wish you could see the metal bits on my elbows better.