Discussion Starter
•
#1
•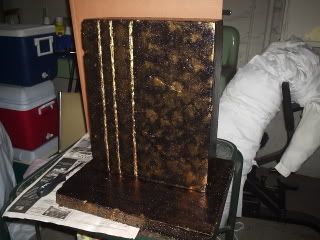 I started with reg bead foam that I get with things I have ordered.
I then gorilla glued the top to the base, weighed it down for a day also.
I also used a silicone based acrylic caulk on the seam of the top to bottom
and for the three lines in the front.
let that all dry for a few hrs or overnight is good.
Painted a medium base latex flat wall covering on the whole thing. Let dry
I then painted the lines on front with the Antique gold paint. (it doesn't stick to the gloss paint as well)
Next I used a gloss black Acrylic Latex Enamel.
I then glued a piece of cardboard to the back (with elmers glue) to cover the hole and seal the edges to the foam with the acrylic caulk, then painted the cardboard and edges with the gloss black only
Then I used Plastikote Brush on- odds and ends Antique gold.,
I crumpled and dipped cheeesecloth into the Antique Gold paint and just blotted all over. I used a foam plate to pour some in.
this dried almost instantly so don't blob on you can always go over it again.