Discussion Starter
·
#1
·
Happy Haunting Everyone!
One of the largest props for our 2009 haunt was our 10' grim reaper. To build this creature we used:
2x4's: one 8', two 4'6", and two 1'
1x2's: two 4'
A 2x2' sheet of plywood (or osb)
Cardboard
1 roll of packing tape
thick wire
duct tape
spray paint: white, red, brown
"Reaper" decorations: a 3' skull decoration, 10' of landscape fabric
Electrical (OPTIONAL and USE AT OWN RISK!): 3 small extension cords, a switch, old fire bell, strobe light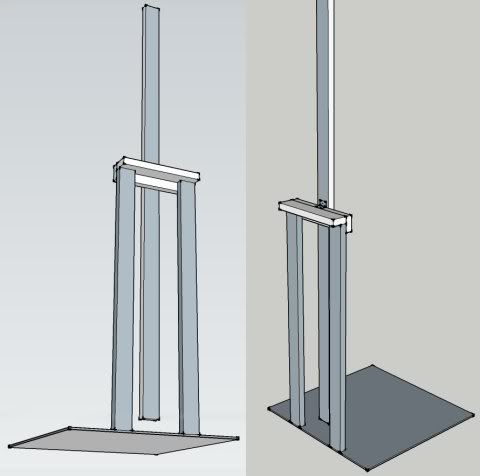 The first thing we constructed was the base. This all depends on the layout of your haunt, how much space you have to work with, etc. We were lucky to have a solid wood shelf frame to screw our base to, so we found two 4' 2x4's screwed to a 2' square of OSB, connected by two foot long 2x4's was sufficient. A single heavy-duty hinge connected our 8' swing arm to this base. The hinge position made our reaper bow at the waist. The bottom of the swing arm was tied to the base with strong nylon rope, so that anyone shorter than 6' tall wouldn't be BONKED by the reaper bending over accidentally.
At the top of the swing arm, we attached a 3' tall skeleton decoration. We pushed thick wire through at his jaws (the wire runs between his top and bottom teeth), in the nose, and between the eyes. We put screws on the back of the board to twist the wire to. This held the foam skull very, very well. We also duct taped the 1x2's to the swing arm. This will give us something to attach the fabric to later.
Next, I went to work on the hands! I hacked a claw shape out of a flat 2x3' piece of cardboard, then centered the fingers on a table edge and pushed to crease them in the middle. Then, while pulling the sides together, I wrapped each finger with packing tape, and squished the tape flat. I also bent the fingers into joints while doing this. For the "palm" of the hand I stuck in another piece of cardboard and bend the other sides around it.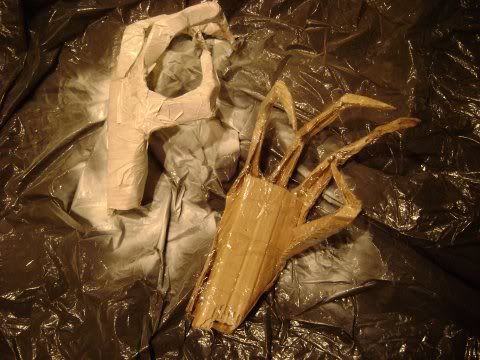 With all the tape on the hands nice and flat, it was time to paint them. One of my volunteers (thanks, Lexi!) gave it a couple coats of white, then painted the fingertips red and added some brown definition.