I just got and played around with the plunge router attachment! I HIGHLY recommend it for doing tombstones!!!!
Definitely look into the plunge router attachment. It isn't cheap ($30-$35 IIRC?) but it is REALLY useful for tombstones or light woodworking. But for my router accoutrement, I would never have gotten this tombstone done: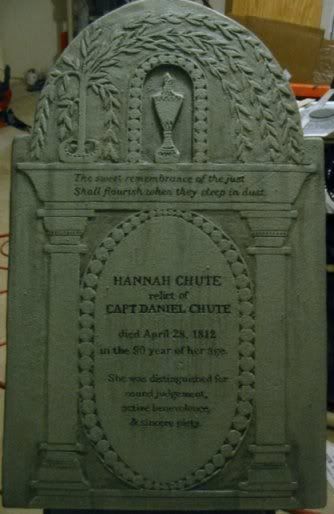 I just bought a set of ten nifty little router bits (with wooden case) for mine at American Science and Surplus for $15:
http://www.sciplus.com/singleItem.cfm?terms=9442&cartLogFrom=Search
Dremel doesn't make too many router bits that fit my needs (namely tombstone making), and several of these from AS&S should do nicely (teeny straight bits, U groove & V groove bits, etc). Had I had the AS&S bits when I made last year's stones, it would've saved me a LOT of hand-carving. grr.