Discussion Starter
·
#1
·
Hi everyone,
New forum member here from the Netherlands. Had my first Halloween display last year using mostly stuff I already had lying around such as a beamer for mesh screen projection onto our large garden window, fog machine (chilled fog using bottles of frozen water which worked rather well), DMX controlled lights and some other stuff.
This year I want to take it up a notch (or two) so I got working on a flying ghost (I believe it's commonly referred to as Axworthy on this board) and a skeleton that will be swinging by itself in the garden. I'm using wiper motors and a PWM controller for these.
However I also want to build one or two motion-activated props and the octobanger solution seemed like one of the best and most affordable and easy to get into.
Here's my question. Would someone perhaps be so kind to take a quick look at my shopping list to see if the stuff I selected will work nicely together and with the octobanger software?
If I order this today delivery would be around October 7 which should leave me enough time to integrate them with my props. Any alternatives would also have to be deliverable to the Netherlands around that time.
I found an alternative for the Uno here: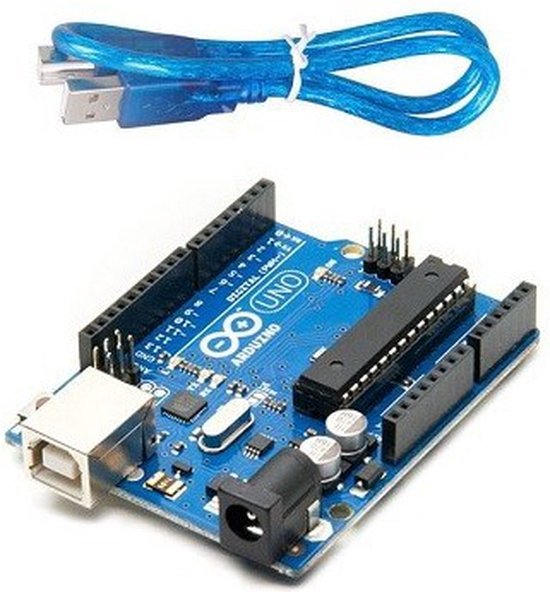 Arduino Uno Rev 3 met USB kabel. De Arduino Uno is een microcontroller board gebaseerd op de ATmega328. Hij is voorzien van 14 digital in/outputs...
www.bol.com
but given the price I suspect that the picture showing an original Arduino brand board is inaccurate and that this will also just be a clone instead of an original.
Perhaps I should add some diodes to my shopping list to quench the flyback voltage from the wiper motors? I've also seen some references to using a capacitor across the motor instead of (or perhaps in addition to) a diode. Any ideas on this?