Discussion Starter
·
#1
·
Well, here's the tombstone I'm entering in the contest. I had to scramble to get my 30 posts this week so I could enter! LOL
Unfortunately, being a newbie, I don't have a dremel with router handy or some of the other tools haunters with experience know you need from prior experience, so I had to make this up as I went along.
I only used 2 tools: A kitchen knife and a soldering iron. I drew out the shapes on the foam board, grabbed a kitchen steak knife, cut it out, and began carving using nothing but that ol' steak knife. I used a soldering iron to make the letters.
I had a blast!
The height is 41-1/2" tall and the supplies are as follows:
4x8 (1") foam- 7.00
Rust-oleum Aqua paint- 4.00
(2) 2 oz. bottles Delta Creamcoat- 2.60
2 small brushes from Michaels- .50
Duct Tape- pro-rated .25
4 dabs of hot glue (for 2 accidental broken claws)- pro-rated .10
Printer paper with letters- pro-rated .10
Sandpaper- Free from tool shed.
Red Mylar- Free from Jays B-B-Q chip bag from trash
2 scraps of cardboard- Free from trash
Iron pole to stand tombstone up- Free from trash
Optional plastic purple plant- Free from attic
Total: 14.55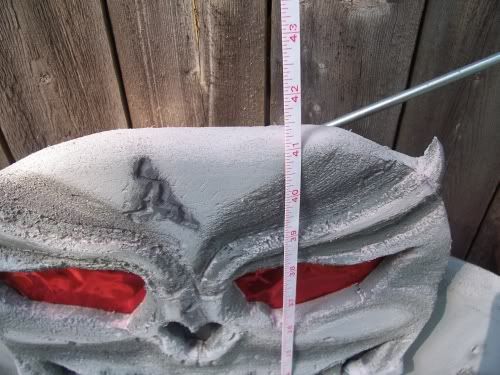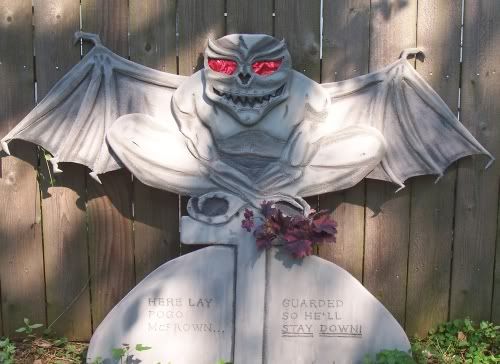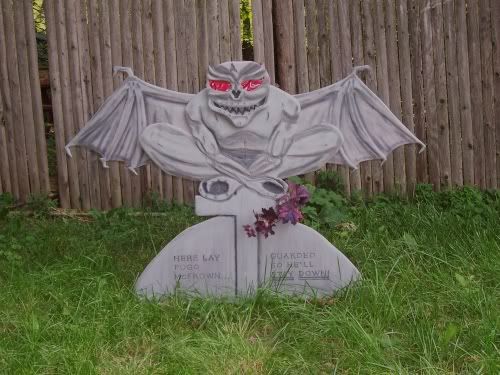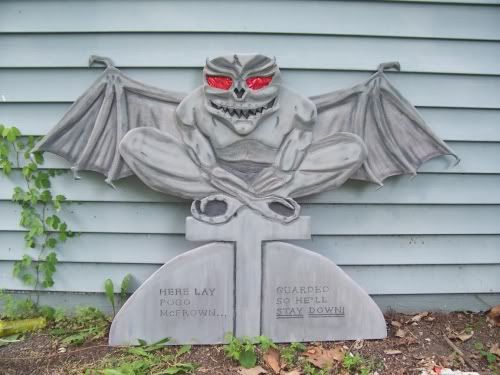 t know what the limit is for pics, so the url for any other pics is here:
http://s65.photobucket.com/albums/h231/Sickie_Ickie/tombstone competition