Discussion Starter
·
#1
·
Meet Little Pun'kin: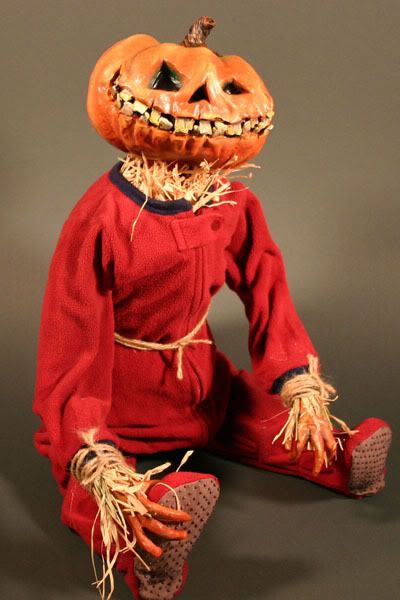 Required free materials:
plastic bottle
twine
duck tape
hangers
foam packing
broom straw
other free materials:
recycled brown shipping paper
recycled placemat
priced materials:
foam pumpkin- 6.99
paperclay- 5.99
raffia- 1.99
garage sale pjs- 1.00
spray primer- 3.98
spray paint- 4.99
craft paint- .99
airbrush paint- 1.00
glue stick- .25
RIT dye (used bottle)- 1.25
Total- $28.43
Ok, a brief rundown of how I made him. I first carved out some facial features on the foam pumpkin, then I used the paperclay to sculpt up his face. The teeth are dried strips of paperclay that are broken and carved. the body is a
soda bottle
with a
block of foam
on the bottom to give height. ( it turns out it wasn't needed, as I miscalculated the size of 12 month footie pjs and had to cut the top down from the bottle. but it was too late to remove it at that point.) I used the
coat hangers
as a wire armature and wrapped the whole thing with the brown paper, then
duck tape.
I sculpted hands and a "neck" using the soda cap and the screw cap on the bottle. it was painted, the pjs were dyed brownish(well I tried anyway. the polyester material didn't take it- only his feet were dyed) and a patch of placemat was sewn to it using
twine
(and a 5" long needle- yikes)
I stuffed and glued the sleeves and collar with some
broom straw
, but it also needed some raffia as it wasn't looking quite right. They were then tied up with
twine
.
Some images of his construction: