Discussion Starter
•
#1
•
Okay, I'm starting some UV glow trials to see hat works best for me and what doesn't. In other words, different types of paints, etc. for blacklight. My main concern is, as always, cost. I'll share what I find as I go along so my trials and errors may help others.
This experiment used Apple Barrel paints (2 oz.) from Michaels for about .69 ea. In order from left to right in regular indoor lighting:
Neon Red, Neon Pink, Neon Blue, Neon Purple, Neon Green and Neon Orange.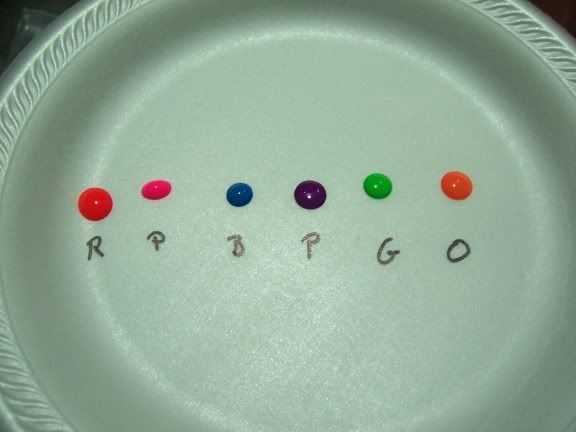 The next picture is taken only using a 24" florescent blacklight bought from Menards for roughly $10.00 . Again:
Neon Red, Neon Pink, Neon Blue, Neon Purple, Neon Green and Neon Orange.
The results to my eye: Neon Red, Pink and Orange look and glow very much alike under blacklight. The orange is slightly more pastel looking, and the Pink may be just a teensy tad brighter than the Red. For me, if only using a color under black light for a "popping" orangish, the hot pink does the job well.
I was pleasently surprised that the Neon Blue glowed so nicely under the Blacklight, because in regular light, it actually is dark. The Neon green glowed
nicely, but to me it was no surprise.
What was a little surprising is that the Neon Purple glowed very little and appears almost useless when the blacklight is mounted from a foot or more away. If the light is veeery close, it almost appears dark blood red, but I won't be lighting it from 6" away. For me, it is useless as a blacklight paint.
I have yet to try Neon Yellow or some others. When I do, I'll add to this thread.