Discussion Starter
•
#1
•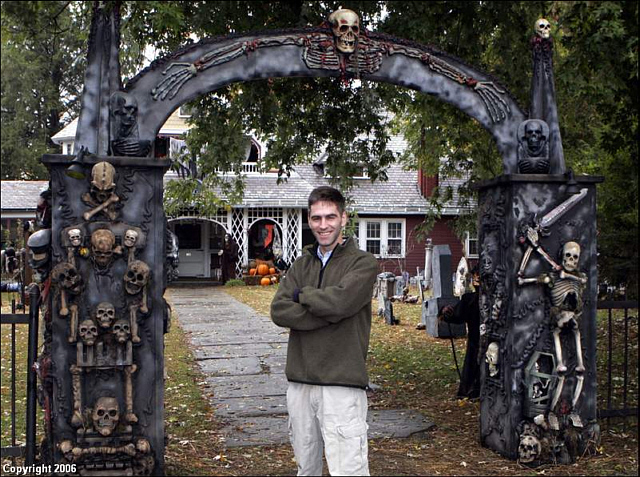 Brewster yard collects food - and attention - for Halloween
By MARCELA ROJAS
THE JOURNAL NEWS
If you go
What: Brewster Yard Haunt
Where: 2 Wells Woods Lane
When: opens at 4 p.m. on Halloween.
Information:
www.brewsteryardhaunt.com
.
(Original publication: October 19, 2006)
BREWSTER -A human rotisserie, a toxic swamp and skeletons coming out of the earth are just some of the elements that grace Dennis and Debra Saraceno's front lawn.
The couple, along with neighbors Laurie Manning and Kevin Kennedy, have put together the Brewster Yard Haunt, an elaborate homegrown display of spooky attractions on Wells Woods Lane that not only brings in hundreds of trick-or-treaters on Halloween but serves a local charity with its "Cans for Candy" food drive.
"We thought if we could have fun and help somebody at the same time, then all the better," said Manning, a property manager with Harvest Property Group. "This is a real positive for the village of Brewster."
What started out as a neighborhood haunted house some 20 years ago has grown into a spine-chilling array of sinister scenes complete with animatronic figures, eerie lighting effects and a ghoulish cast of characters. There's Dr. Demento who performs an autopsy in his laboratory, and monsters that may jump out at any turn.
"We started this for our son. Halloween was a great memory for me, and I wanted to pass that nostalgia on to him," said Debra Saraceno. "But now, thanks to Laurie and Kevin's contributions and enthusiasm, this has gone beyond our wildest dreams - or nightmares."
Indeed, the community project has caught the attention of producers on the Home and Garden Television show, "What's With That House?" Brewster Yard Haunt was selected as the featured home for an upcoming episode, "What's With That Haunted House?"
Crews were busy Tuesday filming the creepy spread. Producer/director Brian Ochrym said they found the Brewster residence on the Internet where it has been listed as one of the top haunted displays for homes.
"I think it's fabulous," said Ochrym. "The attention to detail is incredible."
Several local children in costume also took part in the filming.
"I like being on TV," said Hannah Fohr, 7, dressed as "The Corpse Bride." "I come here every day. The scariest part is when the garbage man pops out."
Preparations for the yard of terror take place all year, said Manning. Props, including tombstones and torture chambers, are all handmade, and it takes about two weeks to install the scary exhibit.
"I've never seen anything like it. It's so dramatic," said neighbor Tom Humstone. "I just like hanging out here."
This Halloween, the group is looking to outdo its charitable contributions that last year brought in 730 pounds of nonperishable foods and more than $200 in donations for the Putnam County Community Action Program's food pantry. This is the third year the display has benefited CAP.
The free event is open to all, but there is one catch.
"If you can make it to the door, then you get candy," Manning said.
But terrifying guests is not the group's only objective.
"It's about the response we get. We just keep growing every year and they really seem to enjoy it," said Kennedy, a graphics designer. "Our hard work makes it all worth it."