Discussion Starter
·
#1
·
Heres a wolf creature I'm working on. I bought the fur for under 10 bucks or something at a fabric store. Hah its funny...the sweet old ladys in there are like "soooo, um, what are you making?" And of course I say "oh, Im making a prop....a wolf prop." Something deep inside me just wants to mess around and be like "oh its for sexual purposes", or like "Oh, Im making a fur coat for myself."
Anyways, here he is so far, or she I guess-no real gender to any of my props

i fixed the pvc figure to this retired ramp I have. It was a good ramp but has become a little too rickety for the show.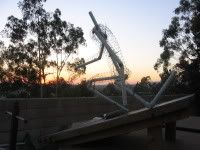 Starting to glue the fur onto chicken wire body