Discussion Starter
·
#1
·
I guess animatronics are the 'IN' thing this season. Mine is a spinoff of the Scare FX witch but will actually be controlled with a Prop-1 and will talk to the ToT's when triggered. My original design for the head movement was as follows: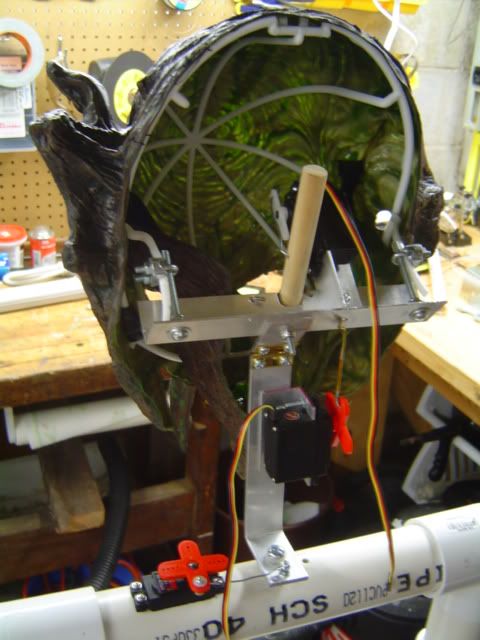 In the photo above the head turn is controlled from the framework below the neck. Head tilt is operated from the mid-neck servo and the mouth is moved from inside the latex mask. For various reasons (mostly half-assed design and construction on my part) the effect was close to what I wanted but somewhat unstable and put quite a strain on the servos.
I'm now inspired to follow in Krough's footsteps and put at least the tilt servo and the armature for mouth movement inside the cranium of a foam skull:
With limited space the head turn servo will probably remain where it was on the frame of the figure.
My question this time around is: How can I reinforce the foam skull so I can attach servos/platform to the interior? I'm trying to save weight with the foam plus I don't have a Bucky skull right now. Plus I want to put eyes in the sockets of the foam skull that will show through the latex mask over the skull. Is there an epoxy/glue or other substance I could coat the inside of this skull with to make it more stable?